New! How do I find plays?
Looking for some new plays to read?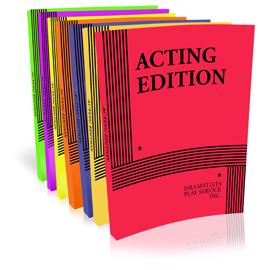 Check out our Acting Editions Browsing Collection, located in the regular Library Stacks on the Ground Floor. This collections includes prizewinning plays from the last ten years (Tony, Obie, Pulitzer), as well as donations from Theatre Faculty and the former New Paltz Players Library.

To see what we have, you can go to the Library Catalog and search for "Acting Editions" or just head for the area around call number PN2080.3 and take a look at what's on the shelf! These plays are all available for checkout - come grab a bunch.

If you're looking for a specific play, or plays by a specific author, you can also search the library catalog by "title" or "author (lastname, first)". The Acting Edition Browsing Collection represents a selection of the plays we have here at STL. Author and title searches will take you to additional results!
Is there a play we don't have yet that you'd like us to buy? Drop me a line at veitchm@newpaltz.edu and I can see about getting a copy for the collection.

To get an overview of a particular playwright or play, try the database Literature Resource Center. Literature Resource Center provides up-to-date criticism, biographies, bibliographies, work overviews and explications, Web sites, periodical articles, compare and contrast pages, full-text author's works, and reading lists on nearly 130,000 writers in all disciplines, from all time periods and from around the world. Other places to start might include:

Reference Universe: good for searching selected reference e-books, as well as the indexes of books in the library's print Reference Collection.
Gale Virtual Reference Library: another good source for basic biographical information.
Dictionary of National Biography (DNB): a good source for bibliographic information about playwrights from the UK. Print resource, available in the reference section on the main floor of the library.

While there is no one way to approach research, you might think about moving from the general to the specific using the following types of sources:
Reference Sources - These include Encyclopedias and other sources that provide a broad overview on a play, author, or practice.

In-depth books - Books in our stacks (accessed via the Library Catalog) may go into greater detail, for example providing criticism of a specific play or a thorough discussion of a topic like stage management or the history of costume in a given era.

Articles - Articles in our Databases provide the most specific information, including primary source reviews of a specific play's production or analysis a playwright's work within its socio-cultural context.